Air Duct Heaters - DFF, DIF, DFT & DIT
Air Duct Heaters, - DFF, DIF, DFT & DIT
Application
Caloritech™ air duct heaters are for use in comfort heating applications.
Typical applications include:
• Make-up air heating
• Air pre-heating
• Air handling equipment
• Fan coils
• Terminal reheating
• Multizone reheating
• Heat pump auxiliary
systems
• Return air heating
Description
Air Duct Heaters, - DFF, DIF, DFT & DIT
Application
Caloritech™ air duct heaters are for use in comfort heating applications.
Typical applications include:
• Make-up air heating
• Air pre-heating
• Air handling equipment
• Fan coils
• Terminal reheating
• Multizone reheating
• Heat pump auxiliary systems
• Return air heating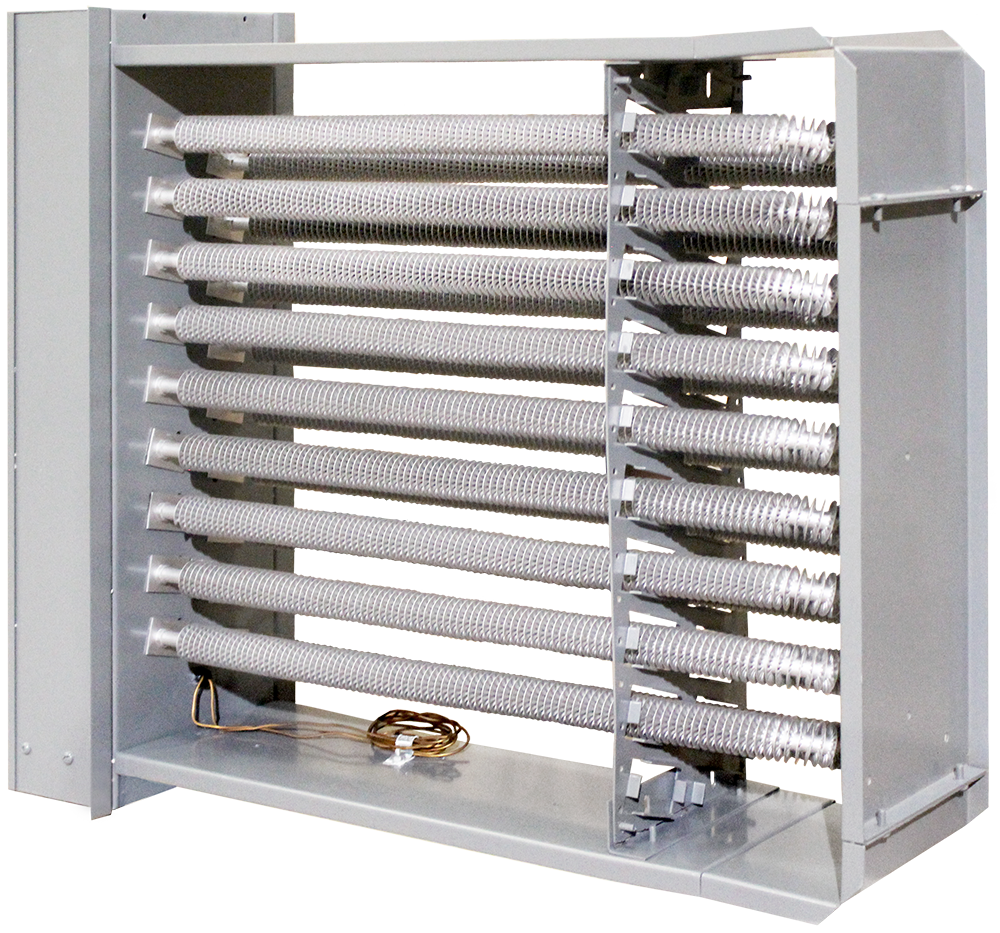 DFF is a flanged duct heater with finned tubular heating elements. DIF is an insert duct heater with finned tubular heating elements. DFT is a flanged duct heater with Incoloy® (non-finned) tubular heating elements. DIT is an insert duct heater with tubular heating elements. Standard Features • Primary linear cutout, 160°F (71°C) 277/600 VAC, 25/10 amp non-inductive • Secondary linear cutout – Manual reset complete with back-up magnetic contactor on units under 300V, 30 kW and less, 225°F (107°C) 277/600 VAC, 25/10 amp non-inductive Optional Auxiliary Duct Heater Controls These controls are available as factory installed on the duct heater or as an Electrical & Electronic Manufacturing Association (EEMAC) rated: • Wall thermostats: T498A, T6051A (1 stage), T6052A (2 stage), T921A (0-135 Ω) • Duct thermostats: T675A (1-stage), T678A (2-stage), T991A (0-135 Ω) • Bulb holders • Silent contactors • SCR controllers • Sail switch • Differential pressure switch • Main disconnect • Pneumatic electric switches • "ON/OFF" switch • Magnetic contactors • Step controllers (specify) control panel for wall mount: • HRC fusing • Control transformers • Fan interlock relay • Pilot lights B C D A B C D A Figure 7 Figure 8 Element Types The finned tubular element design is the most popular. It incorporates the highest wattage per cross sectional duct area thus making it more economical than the Incoloy® tubular design. Figure 9 – Finned Tubular Element Finned tubular elements are constructed using a steel tube with a corrugated steel fin wrapped around it and brazed together. This increases the heat transfer surface of the element resulting in a lower operating temperature than tubular designs.
Incoloy® tubular elements are similarly constructed, but without the steel fin in order to increase the corrosion resistance. The Incoloy® design should be chosen where high humidity or slightly corrosive chemical contaminants are present in the air stream. These units are made and approved on special order only. Both element types are designed to provide many years of maintenance free service. Unlike open coil designs, duct heaters fitted with tubular elements are not subject to hazards of electrical shock which allows installation close to a register or grille.
Wiring and Auxiliary Controls Caloritech™ electric duct heaters are available for supply voltages up to 600V, 3 phase. Multi-staging to provide increments of temperature rise can be incorporated where dimensional space and element spacing allows. Special electrical features are available providing simple or sophisticated temperature control to suit individual requirements. See Optional Auxiliary Duct Heater Controls, page C9. Construction Two basic heater frame constructions are available, flange type or insert type (see Figure 13 and Figure 14, page C10). All frames are fabricated from 16-gauge satin coat steel. Specially constructed stainless steel frames are also available. A unique modular construction using stock frame components is employed using vertical and horizontal dimensional increments of two inches, ensuring rapid delivery.